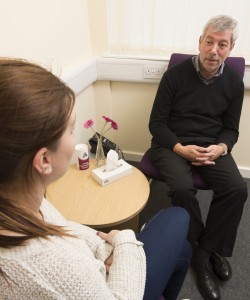 Our Counselling Services are available to you if you live in Fylde, Wyre and Blackpool
We believe:
That the process of sharing anxieties, hopes and fears can help a person to develop and learn to make their own decisions.
That everyone has the potential to manage their own difficulties if they are supported through this process.
That everyone has the right to be in control of their own lives.
Counselling sessions last one hour. Your counsellor will work with you in blocks of sessions, followed by a review to allow you both to assess whether further sessions would be helpful.
As a member of the BACP we follow its guidelines and its complaints procedure.
Do you need to talk to someone?
About… stress, anxiety, relationship difficulties, bereavement, loss, depression, anger, abuse, trauma or anything else?
We may be able to help you with our person-centred counselling service.
What can we offer you?
Support: our counsellors give you time and space to work through your difficulties and needs. They offer trust and confidentiality.
Listening: talking with someone trained to listen sensitively can help you to understand your situation. You may know exactly what is troubling you or you may feel distressed and not know why.
Respect: our counsellors will respect you and what you choose to talk about. They will not judge you in any way. They will work alongside you and help you to make changes if that is what you want to do.
We offer two types of service:
Private Counselling Sessions
Private Counselling Sessions, charged at a rate of £35 per hour. There is no waiting list for this service.
Clients are offered a pre-counselling appointment within a week, charged at a rate of £20 for an hour. This appointment will ensure that this service is appropriate for you.
Counselling will usually be offered the following week, usually by the same Counsellor met in the Pre-counselling appointment.
Age 11+
Donation Based Counsellors
Our Donation Based Counsellors give their time free of charge but in order to facilitate this service a donation is required. There is a waiting list for this service.
Clients are offered a pre-counselling appointment within approximately one month of contacting the team and are then added to the waiting list.
Counselling will be offered within a further 2 month period
Age 16+
---
For further information or to arrange an appointment please contact our YMCA Face To Face offices on 01253 720270, Monday to Thursday 9am – 5pm and Fridays 9am-4pm. Alternatively, please complete our enquiry form below.All enquiries are treated in the strictest confidence.